We just recently moved to an old ranch-style farmhouse on a 3.6 acre property. There's a lot to do, and many springtime dreams of starting a garden, raising chickens and a beehive. Upon move-in, though, my first priority was to clean and set up the kitchen.
Let me show you our kitchen, the Chicken Kitchen.
The Chicken Kitchen is a charming old farm kitchen, with lots of chicken accents all over. We've got the chicken runner under the ceiling, the chicken tiles and the chicken cabinet knobs. Not in the picture are chicken light switches, chicken chain pulls on the ceiling fan, and a chicken sink drain strainer. Chick chick chicken!
There was a layer of greasy dust everywhere, from the tops of the ceiling runner, the cabinet knobs, drawers and shelves. Don't even get me started on the stove.
So I pulled on the rubber gloves and set to work. First I threw away all toxic chemical cleaners and bleaches. I only used water, heavy duty scouring pads, scrub sponge and for really greasy hard-to-scrub areas, Barkeepers Friend.
This vintage Jenn-Air Downdraft Stove was so caked with burnt grease on the stove rings. The burner plates were black and ready to crumble into dust. The downdraft filter was gross, and I fished out a fork, an old spaghetti, and old food caked at the bottom. (Sorry if I'm making you lose your lunch. I skipped taking a picture because I didn't want to lose my lunch.) The grill and griddle cartridge set was so caked with grease I deemed it beyond restoration, so it went to the trash. (I spied a used set on eBay for less than $50 plus shipping, so maybe, maybe after Christmas…) But the burners were fine. With a lot of elbow grease and new burner plates, this stove is back in business. Look at that polished chrome!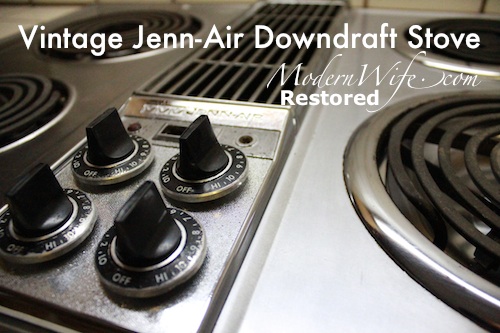 I scrubbed the greasy dust off the ceiling, runner and molding. No grease or dust was safe from me. Everything got the rub down.
When all was scrubbed and clean, I bought about 5 rolls of Magic Cover Self-Adhesive Shelf Liners in Polka Dots for the drawers and shelves. They're over $7 per roll, and they really perk up my kitchen.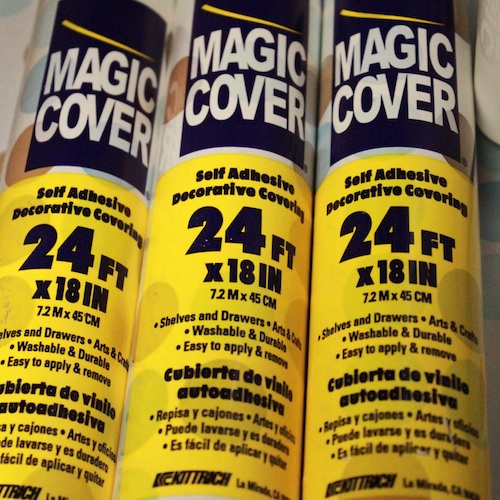 I measure my surface and cut the contact paper to size. If it's a small piece, I peel all the backlining paper off. If it's a large piece I peel off just a corner or a side. I put the contact paper into position and press down, peeling off the backlining paper as I press the contact paper down, smoothing out bubbles and wrinkles as I go.
Some of my shelves and drawers are unfinished wood, a little splintery, so I cut out extra on the sides so I can fold it over and cover the edges as well.
We removed the microwave since we don't use it, covered the hole with contact paper and turned it into my breadmaker cave.
Thanks for visiting the Chicken Kitchen.