For weeks now I've been walking past grocery aisles seeing brightly colored plastic Easter eggs that pop open to contain candy. We've been saving our set year after year, and called it the eco-friendly way because they're reusable. But a basketful of candy is hardly the celebration of spring I would like to encourage as a healthy family tradition.
At one point we also brought home an Easter Egg dye kit from the local convenience store. It came with little tablets of dye and a bunch of stickers for decorating hardboiled eggs. Although the package states it's non-toxic, the list of ingredients contains synthetic chemical dyes that have been found to cause allergies and behavioral problems in children.
So this weekend we are starting a new old tradition of making Easter eggs out of vegetables that are naturally staining.
Like beets!
And red cabbage!
And turmeric!
The recipe is easy.
You need:
1 tablespoon of distilled white vineger for each cup of water
white organic eggs
So if you need 3 cups of water in a saucepan to cover your eggs, then you will need to add 3 tablespoons of vinegar.
Then chop up and add your staining vegetable of choice. Put them in the vinegar/water combination with the eggs. Bring to a boil, turn off the stove, then cover and let sit for 15 minutes. Transfer the whole soup into a quart mason jar or any quart-sized recycled plastic container you don't mind getting stained. Some people strain the vegetables out but I decided to keep my vegetables in the soak, in hopes there would be some patterns stamped against the eggs. Let it sit overnight.
Get the eggs out and let it dry on paper towels or old newspapers. This is how my eggs looked just out of their color soup. Turmeric made yellow, red cabbage made blue, and beets made red.
After they dried, more patterns emerged.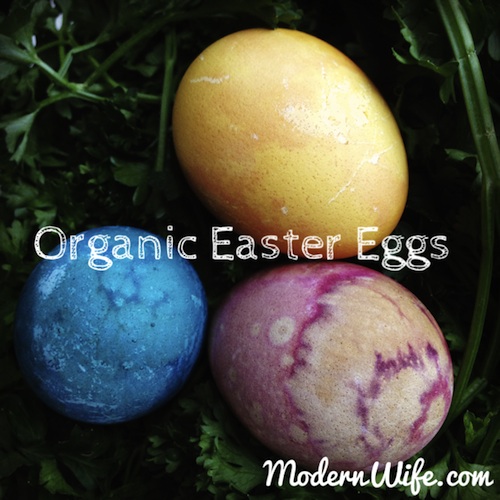 Transfer the dried Easter eggs back into the egg cartons they came in originally. Refrigerate until Easter morning.
Here are other ways to do this:
Recipe from Full Circle
Go Eco when Dyeing Eggs
Have a great week and an egg-cellent Easter!