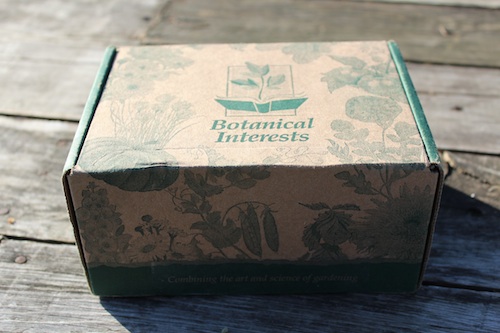 I got my seeds from Botanical Interests! They came in this pretty box which fits nicely in my mailbox.
A while back I was thinking about seeds and the recent defeat of Proposition 37 here in California. Without mandatory labeling of GMO seeds and food, I will have to assume something is genetically modified, unless they voluntarily state otherwise. The Non-GMO Project is an awesome guide to finding non-GMO products. The Cornucopia Seeds I bought at my local OSH last fall were marked "Not treated or genetically modified" right on the packet. Mike at Urban Organic Gardener wrote about Sources for Buying Non-GMO seeds. The comments thread is really really interesting. One of the commenters posted a list of seed companies owned or supplied by Monsanto. They could be selling organic or non-gmo seeds and still be making money for the Evil Empire. Well, I was glad to know that the seeds I got last fall have nothing to do with Monsanto. And this winter I bought my seeds from Botanical Interests, which sells non-GMO organic and heirloom seeds. They are not on the list of seed villains. And they have these lovely illustrations on the packets. That goes a long way with me.
I bought so many seeds! I admit I got a little carried away. For less than the price of one trip to the grocery store, I just bought my family's vegetables all year. I also received a complimentary packet of Lettuce.
With these non-gmo organic seeds, and our own gardens that we'll tend using organic gardening practices, we will be eating better than we ever have. I imagine just-picked sugar snap peas crunching in my mouth, not having soggy or dried out vegetables in the refrigerator, everything eaten just after snipping it off the plant. Does that sound like heaven to you?