Every year we throw a Halloween party to celebrate my daughter's birthday. We have a big family with many young cousins, so that alone makes the parties pretty big. In addition, my daughter likes to invite her whole class to the parties as well. Not everyone comes, of course (whew!) but we usually get at least 20 children at these parties.
Children are the most difficult people to keep still long enough to eat. We've thrown parties in the past when the kids refused to eat anything and insisted only on playing the whole time they were over. So I've decided to serve mostly finger foods, snacks they can swipe as they go past the buffet table on their way to some fun game they are playing. Here is my menu:
Mini Pumpkin Pies. I got the idea from Bakerella's Pumpkin Pie Bites, but I used my own recipe for Pumpkin Pie. It yielded 48 little pumpkin pies.
Roasted Pumpkin Seeds. We took the pumpkin seeds from carving out the Jack O' Lantern and roasted them until brown and crunchy.
Pumpkin Chocolate Chip Cookies. This Pumpkin Chocolate Chip Cookies recipe is a family favorite that has been passed down from generation to generation, tweaked slightly to make it healthier while keeping it just as delicious as ever.
Apples, Apple Cider, Chips with Salsa and Guacamole. We were serving so many sweets so I decided on just having apples, and not caramel candy apples. Chips with Salsa and Guacamole as the savory complement to all the sweet treats. Apple cider for drinks.
Halloween Sugar Cookies. Halloween cookie cutter shapes + this Butter Cookies recipe + cookie icing = Fun colorful Halloween cookies!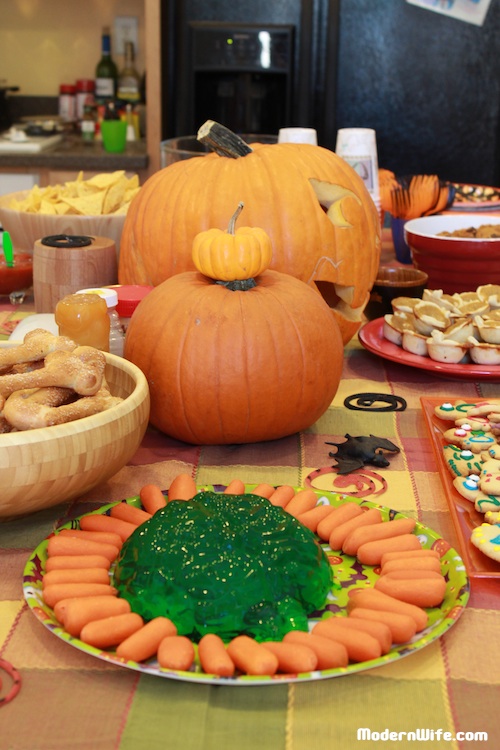 Jello AB Normal Brain. Green jello set in brain mold the night before the party, set up next to cut carrots for a fun color contrast.
Bone Pretzels. I love my breadmaker, and this Breadmaker Pretzel recipe is one of the reasons why.